Isn't this pot of brushes wonderful! During a recent visit to a San Diego quilt guild, my lovely hostess took me to a local artist's collective. We visited a variety of open studios including this one of a ceramicist. Here you see his brushes artfully arranged for visiting tourist to photograph.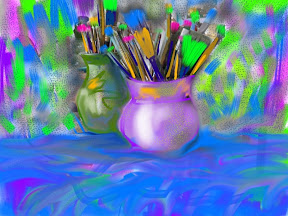 Using the Art Studio app on my Ipad, I doodled and painted over the image. It was great fun. But somehow I like the original image better.
Finding inspiration is not always easy. Being mindful of the beauty that surrounds you and keeping your eyes open is a skill most artists train themselves to do.
I have to remind myself of this all the time. (And it's getting really annoying!)