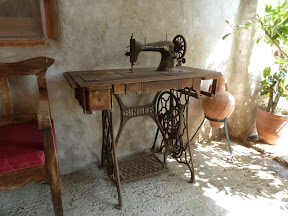 It became apparent to me recently, while visiting Spain, that I may be older than I think.
Here is a treadle sewing machine found on the patio of our hotel that is very similar to my first machine. As a 9 year old, our Singer machine taught me how to sew, how to manage thread tension, and how to maintain and repair a sewing machine.
Sadly, the machine had no handbook or computer as a guide. Heck, it didn't even require electricity! But I did have the best toned ankles in the neighborhood.