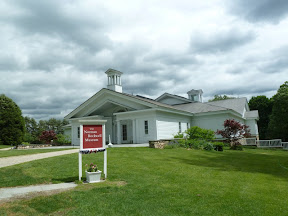 On a recent trip out east I was fortunate to visit the
Norman Rockwell Museum
and Studio near Stockbridge, New York. It's a well designed museum and interpretive center dedicated to Rockwell's most famous paintings. And the countryside ain't bad either.
Seeing them first hand, you realize that the characters in Rockwell's paintings have so much personality, you can't help but smile. It's wonderful to see everyday life depicted with humor and affection.
Here you see his studio set up as it would have been in the 1960's (before I was born, hah!). The building was actually moved to this location out in the country to be near the museum. It's a large open space (like a barn or carriage house) containing both his painting studio and dark room. Often Rockwell would pose his figures, take a photo, and work from the photo.
There is something thrilling in seeing an artist's tools, things they have actually touched when making their art. The tubes of paint and brushes look well used and loved.
The Norman Rockwell Museum also houses temporary exhibits of others artists work like
Jerry Pinkney
, one of my favorite illustrators of children's books. It is well worth the trip if you are in the area.