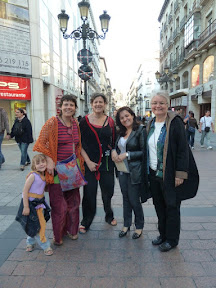 Joanna, Cecília, Mercè, Asun, and me in Zaragoza
One of the benefits of travel is visiting with friends that you admire and enjoy. My friends
Cecília and Mercè
(sisters) drove all the way from Barcelona with adorable little Joanna to see us in Zaragoza. Here we are promenading down Alfonso street with my friend Asun looking darn cute.
Menina holding skeins of my thread.
Cecelia and Merce are well known in Europe for their innovative and beautiful hand painted silk panels. You may know them as the ladies of
Desedamas
.
Infanta Margarita by Velazquez
My collection of their work is slowly growing. I especially love the images of the
meninas
that they make based upon the little maids in paintings by Diego Velazquez. Aren't they fun!